Product Description
Insulation Fasteners (IF) – Perforated  Base Hangers (PIF)
Aeroduct® Insulation Fasteners (IF) are an economical and effective solution for your insulation fastening needs. Aeroduct® insulation fasteners are manufactured and designed to meet SMACNA Standards utilizing steel as per ASTM-A 591. It has a 28 Gauge Metal Base. with a size of 50mm x 50mm. Pins are 12 Gauge Zinc Plated and packaging is done with 500 pieces per box with SW washers.
Download Product Catalogue
Types available are,
Self Adhesive Type – Steel nail reinforced and plain base options
Self Adhesive Type – Aluminium nail easy to bend and cut
Perforated Base Type – Available in both steel and aluminium nail.
Technical Specifications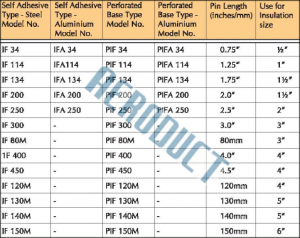 Insulation Fasteners Compact
Base: 28 Gauge Metal
Size: 35mm x 35mm
Pin: 12 Gauge Zinc Plated
Packaging: 1000 Pieces per box with two boxes of SW washers.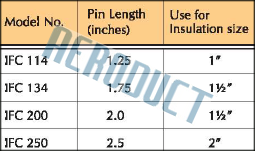 SW Washers
SW washers are steel washers 30 gauge galvanized and are available in 500 pieces per box. Te steel base is made from 28 gauge metal, a steel pin and double sided self adhesive tape having high shear strength. The use of this pic prevents corrosion on the street metal which is caused by the welding fasteners.
Adhesive Tape Technical Details
Base Material: Polyethylene foam with aggresive pressure sensitive rubber resin adhesive.
Service Temperature: -40 deg C to +70 Deg C
Highly Resistant to abrasion, corrosion and moisture.
Confirms to European Directive: 2000/53 (Lead, Chromium VI, Mercury, Cadmium free)
10 Minutes 180 degree Peel Adhesion: 30 N/25mm
500 Hour static shear ( Stainless Steel) : 0.8 kg/cm3
Career Opportunities
If you are seeking a challenging and growth oriented job opening, Hira Industries LLC is at all times on the watch for talented, capable and enterprising professionals. Please send your resume/CV on careers@rhira.com